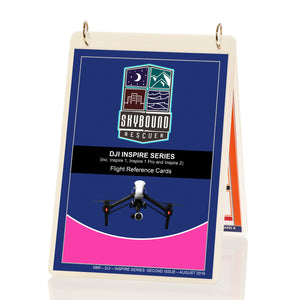 Optimising Drone Procedures for the DJI Inspire Series
These Flight Reference Cards (FRCs) hold all useful information that a remote pilot would need to familiarise themselves with the DJI Inspire Series or . It includes:
Trialled and tested best practice for drone procedures that promote enhanced safety, mission success, and equipment longevity
Aircraft specific limitations
Trialled and tested best practice for the main types of drone emergencies
Click here to find out more about what's inside
PLEASE NOTE: We aim to fulfil all orders within 2 weeks. However, in a very few cases, shipping may be slightly longer due to COVID-19 related delays.